Entertainment News
Davido's Aide, Isreal DMW, responds after online vendor accused him of being a scammer
Isreal DMW, who is known as singer Davido's aide, has responded after being called out by an online vendor over a failed contract.
The businesswoman, Mides Haven, took to Instagram to accuse Isreal of not upholding their agreement regarding an advertisement.
According to Mides Haven, Isreal charged her N1 million for the job, and she paid an N800,000 deposit into his account with the understanding that he would send her the completed video and she would then send the balance.
However, she claimed that Isreal collected the money but failed to deliver on the job.
Mides Haven stated that she requested a refund from Isreal after he failed to fulfill his end of the agreement, but he refused, citing that "30BG doesn't refund."
She further revealed that her attempts to reach Isreal on various social media platforms have been unsuccessful, which led her to call him out publicly.
In response, Isreal DMW took to his Instagram page to address the accusations.
He stated that the vendor had failed to pay him the full amount he had requested for the job, yet she demanded that he promote her products.
Isreal emphasized that he would only promote her products with a video of himself if the vendor keeps to their initial agreement by paying the full amount he had originally requested.
His words,
"Mide, pay the amount I have asked for if you truly want a video of me promoting our products. Because it was never in our initial agreement. Our earlier agreement, was for me to post ur products on my story. Which I fully did twice. Thanks". Agreement is Agreement 
"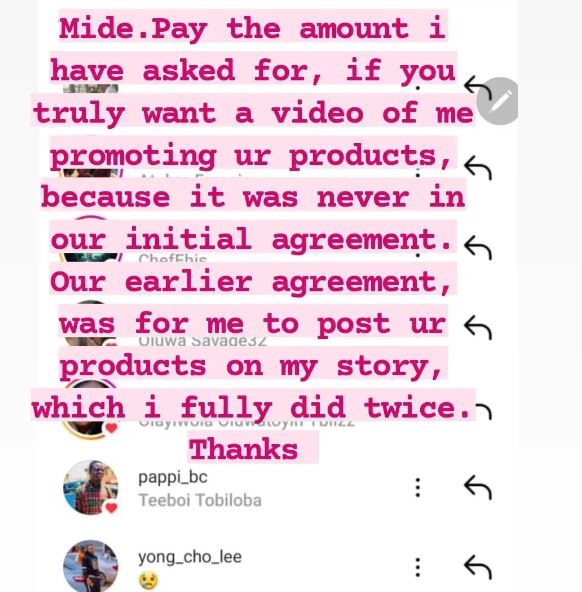 The dispute between Isreal DMW and the online vendor has garnered attention on social media, with fans and followers expressing different opinions on the matter.
As the situation unfolds, both parties are expected to resolve the issue and come to a mutually satisfactory resolution.