Entertainment News
"Living together without paying dowry is not a family" – Pastor Faith Oyedepo
Pastor Faith Abiola Oyedepo, the wife of the General Overseer of Living Faith Church Worldwide, aka Winners Chapel International, has called out cohabiting couples on social media.
In a Facebook post, she described the act of living together and having children without paying a dowry as wrong.
Pastor Faith Abiola Oyedepo emphasized that people who want to build a successful family must first be married.
She urged young people to avoid engaging in premarital sex, cohabitation, and other forms of immorality, noting that such actions lead to negative consequences.
She wrote;
"Some couples have been living together for years and have even had children together without a proper marriage: no dowry has been paid, nor have they had any form of a formal engagement, this is not right. Marriage is the basis for the family; if you must enjoy a successful family, then you must first be married."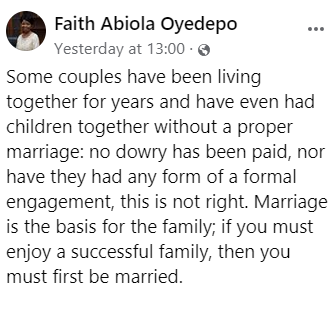 Her post has since generated reactions from different quarters, with many commending her for speaking up on such a sensitive issue.
However, some have criticized her views, arguing that marriage does not guarantee success or happiness in a relationship.
It is worth noting that the issue of cohabitation has been a subject of debate in many societies, with some viewing it as an acceptable way to test compatibility before marriage, while others see it as a moral and cultural taboo.