Entertainment News
Man takes back iPhone from girlfriend after discovering she used Tinubu as her wallpaper
A vexed boyfriend seemed displeased with his supposed girlfriend after the latter decided to use the photo of the president-elect, Tinubu as her gifted phone wallpaper.
In a video going viral, a man who supposedly bought an iPhone for his babe had a change of heart in anger, and took her phone back while she was using her iPhone in the living room because he noticed she used Bola-Ahmed Tinubu as her screen wallpaper.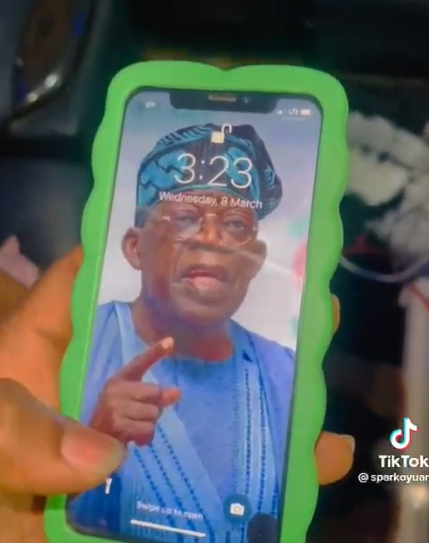 The boyfriend who, obviously was not a "Tinubu fan" decided to seize the iPhone from his girlfriend after questioning her about her wallpaper preference.
He could be heard telling her to log out of every account she has on her phone in a video that was shared on social media.
The man advised his girlfriend to meet Tinubu to purchase a new smartphone if she desired one.
Watch the video below,