Entertainment News
Olamide Oyedeji begs for prayers as she undergoes second butt surgery (Video)
Nigerian actress, Olaide Oyedeji has called for prayers from her fans and followers for the success of her butt surgery.
The actress, Olaide has once again gone under the knife to enhance her bottocks, and she has urged all Nigerians to pray for her even if they thought she was not worth it and deserved no empathy.
"Guys please pray for me I might not worth it or deserve it, and yes I'll be in safe hands. My team are professionals. Not withstanding prayers always goes a long way See you guys back in 5 hours." She captioned the video.
The thespian made this request in a video she shared on her Instagram page while announcing that she was set to undergo another butt surgery for a massive behind.
Watch below,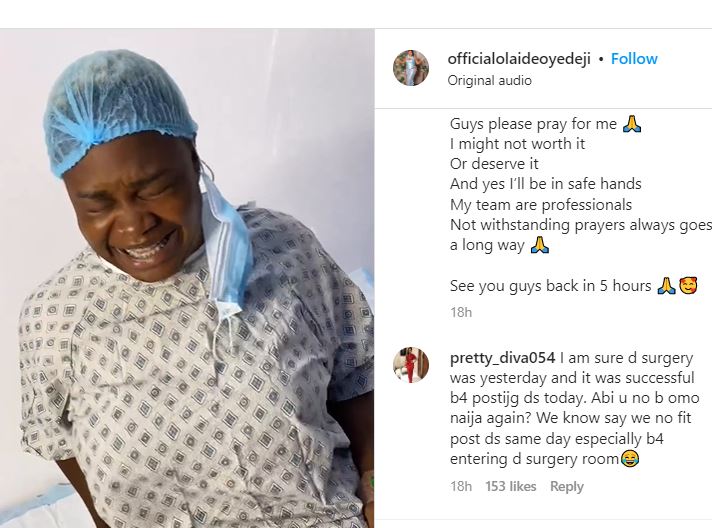 Reacting, an Instagram user @kemiadegold1 wrote, "I day pity you,by the time you finished your self your eyes will open".
@olukoyaolorunyomi, "What if you do this and you see yourself on the other side of the world, what will you be saying? We are the clay, our God is the one that mould us, can we be telling our creator that He did not mould us well? it's not possible, because HE made us in HIS OWN Image Says The Word of God, please let us be careful".
@prettytemmie_xx, "Y'all don't know when to stop doing sugery until una turn to Watin i no know".
@omoyenioremadeanimashaun, "Body surgeries are addictive. You need to stop or you will keep going, till you will be the shadow of your real self."